PR / Vermont (May, 2022) — Thanks to fiscal support from Lawson's Finest liquids, Suncommon Solar, and new sponsor Mascoma Bank, the Vermont Can Carrier Reuse Program is officially adding 11 new locations to its network of take-back sites. In all, consumers can now drop off their used can carriers at 47 verified taprooms or retail outlets throughout the state. Plans are also laid for dozens more participants to join the popular reduce-reuse-recycle model known as the "Reusiverse" in the coming months.
"It's really been exciting to see so many businesses embrace the idea," says Reusable Solutions founder and co-creator of the Reusiverse, Ben Kogan. "The Vermont craft beer community, from breweries to retail outlets to distributors and consumers, has really answered the call to keep this reusable packaging out of the waste stream. It's great to see proof of concept for this reuse program"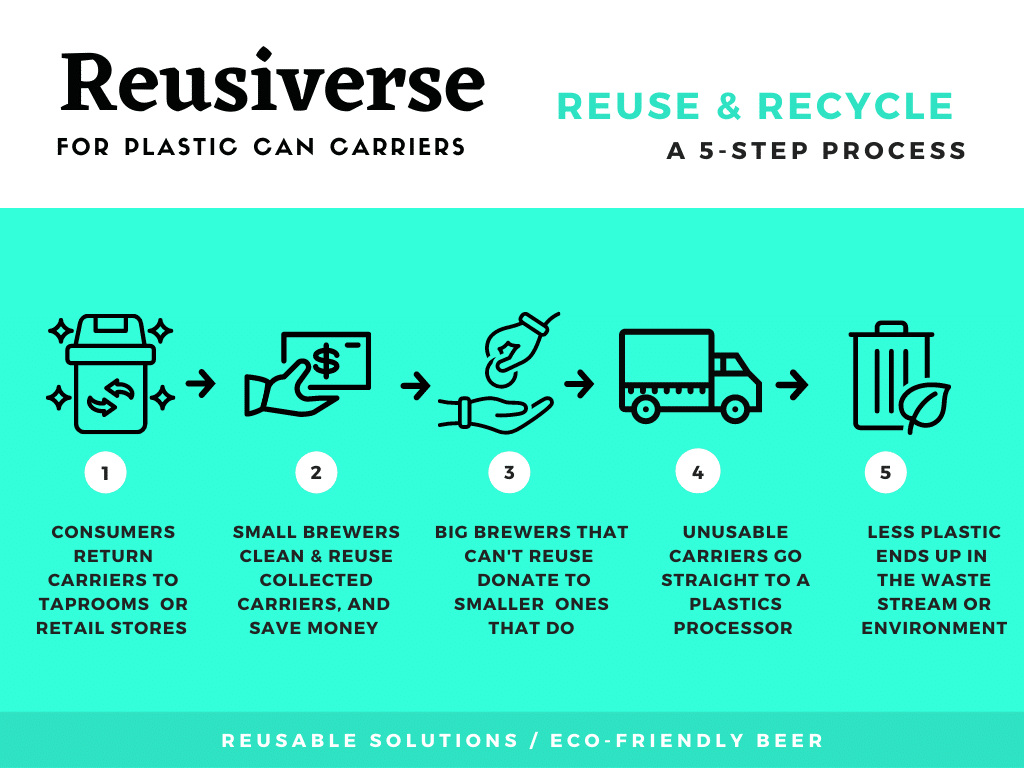 The announcement of the 11 new locations follows notable and measurable outcomes from the Metro Burlington pilot program that rescued 10,000 carriers in just two months, and is the second phase of a state-wide expansion effort. The popular take-back program has raised consumer awareness, inspired thousands to save and return their carriers, and decreased delivery vehicle emissions because much of the difficult-to-recycle plastic packaging is instead being reused.
As of this week, Brownsville Butcher & Pantry, Huggett's Mart in Thetford, Dan and Whit's General Store in Norwich, Mike's Deli and Market in Hartland, Co-op Food Stores in White River Junction, Mad River Taste Place in Waitsfield, Woodstock Farmers Market, Village Butcher also in Woodstock, and Brattleboro Food Co-op will all be accepting take backs from customers. Lawson's Finest Liquids and Ten Bends Beer in Hyde Park have also officially launched their collection programs recently. The Sugarbush Ski Resort in Warren is even getting involved. They plan to start rescuing carriers during many of their events and at their on-site restaurants and bars, both of which often do can pours.
"The Taste Place is a frequent stop for eco-minded locals and visitors who enjoy the beautiful surroundings of the Mad River Valley," says the store's marketing and events coordinator Jordan Schaefer. "We're excited to bring the VT Can Carrier Reuse service to our customers and be part of the solution."
Nearly a third of the verified collection sites are breweries that will sanitize and reuse carriers that are in good condition. Some have specific color preferences and all appreciate when price tag stickers have been removed. To date, more than 25,000 carriers have been diverted from the waste stream and given a second life by environmentally conscious breweries including Black Flannel, Green Empire, Foam Brewers, Weird Window Brewing and others. For information about each collection location just click their listing on the map and a pop-up menu provides specific details regarding their policy.
Any brewery, cidery, beer bar or retail location in Vermont that wants to be part of the program should email ben@reusablesolutions.co for more details. Also reach out if you'd like to be a sponsor for this awesome program and help spread its reach.
Related: Craft Brewers Ditch Plastic Can Carriers for Eco-Conscious Ones
This press release should not be mistaken as an endorsement of plastic can carriers, which manufacturers disingenuously promote as "100% recyclable." While true in theory, such marketing claims are anything but true in reality. Because they are incompatible with standard curbside recycling programs in the U.S., billions of plastic can carriers end up in the waste stream annually. This fact is the motivation for the Can Carrier Reuse & Recycling Initiative, which recognizes the unsustainable nature of plastic packaging within the beverage industry and is trying to mitigate the environmental harm caused by it.
Featured image courtesy of Lawson's Finest Liquids. The VT Can Carrier Reuse & Recycle Sign designed by Phillp Ayer.
Reusable Solutions is an outreach organization that focuses on eradicating single-use plastic and fighting climate change. Its founder believes that innovative business and smart environmental policy are the most effective means to transition from a linear to a circular economy. Part of this transition is connecting reusable and renewable businesses with consumers through a community-based, grassroots process.
The EcoFriendlyBeer.com website was founded in early 2020 to spur discussion and share insights on how the craft brewing industry and its consumers can better protect our Earth, the only planet with craft beer. Its founder is currently enrolled in the Sustainability Studies program at Harvard Extension School and offers consulting for the craft beverage industry.
Mascoma Bank is different by design. Established to help its communities and customers, not to benefit investors, the Certified B Corporation® strives to be a force for positive change. Its mission is to make the lives of its customers better by demonstrating that people and place matter, and through acts that demonstrate responsibility for each other as well as future generations.