PR / Somerville, MA (February, 2021) — Portico Brewing has been awarded a $5,000 Reduce, Reuse, Repair Grant from the Massachusetts Department of Environmental Protection (Mass DEP) to implement several environmentally-conscious strategies at its pending Somerville brewery. Developed in collaboration with sustainability consultant Rob Vandenabeele, founder of EcoFriendlyBeer.com, the plan's goal is to prevent unnecessary waste by resisting the trend of single-use serveware that many taprooms have relied on for their food and beverage service.
Among the strategies to help reduce throw-away items are forgoing disposable and so-called compostable single-use service items in favor of durable and reusable tableware and drinkware, including custom stainless steel cups for outdoor beer service. Portico is also bucking the industry practice of treating plastic can carriers as single-use items, instead implementing a post-consumer collection and cleaning protocol to reuse them for packaging and distributing beer for off-site retail. In-house can sales will be package-optional to encourage customers to bring reusable bags or portable coolers for their to-go purchases, thus decreasing the need for single-use packaging.
A separate pilot program will also trial the idea of using refillable swing-top bottles instead of single-use bottles or cans for special limited-release offerings through a deposit-refund arrangement that encourages consumer returns.
Related: Why That "Compostable" Plastic Cup Isn't Good for the Environment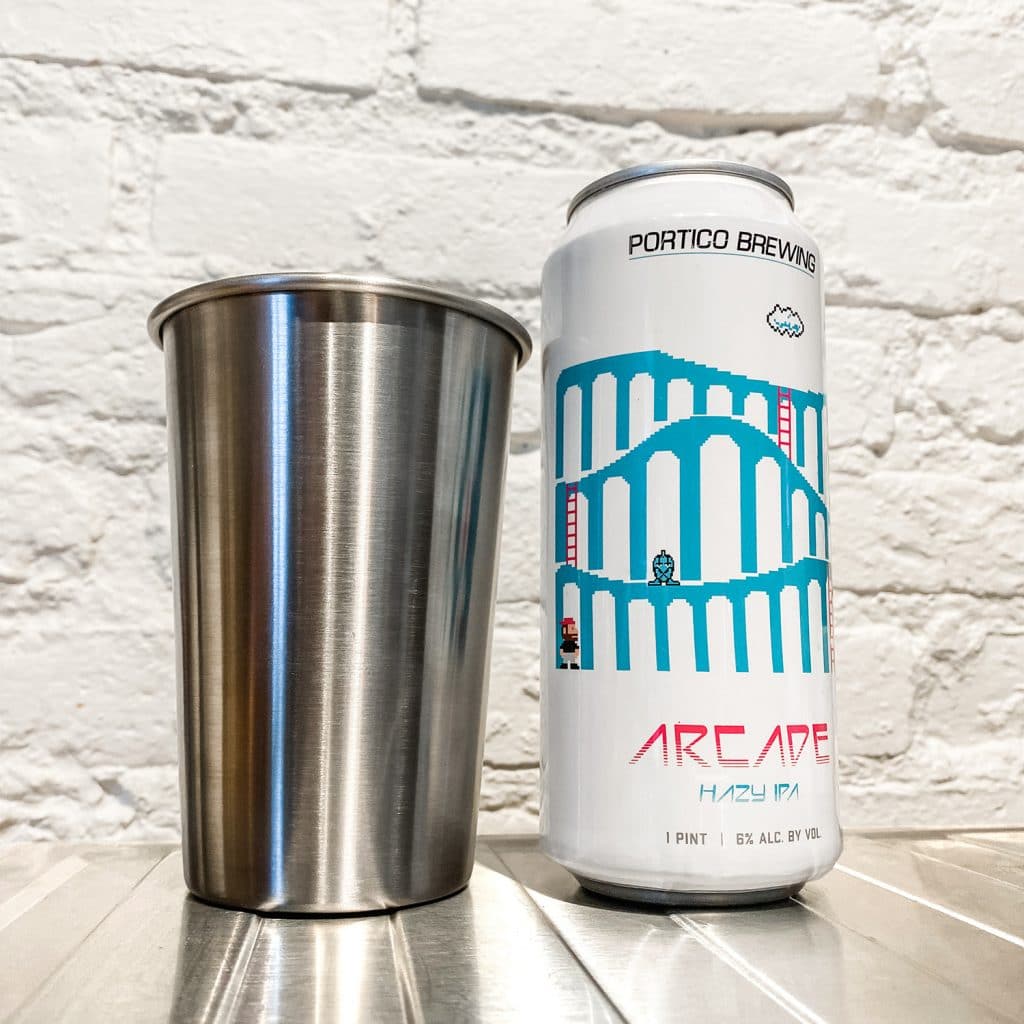 The taproom reusables program is part of Portico's larger "environmental handprint," the positive actions and measures that will help it become a greener business. Other sustainability actions on the horizon include an ongoing energy efficiency audit, the decision to source its power through Somerville's green energy option, and plans to become a certified bike-friendly business. "Our aim is to be as green as we can be," says cofounder Alex Rabe. "Not just in the way we brew beer, but also in the way we communicate our environmental values to customers. We want to be part of the movement that believes in business for good."
In beer release news, Portico introduced a new hazy IPA, Arcade, to its lineup. Brewed with generous amounts of oats and wheat, paired with heavy doses of whirlpool and dry hop additions, it's medium-bodied and aroma-forward with low bitterness. Featuring mandarina bavaria, citra and summit hops, Arcade has aromas and flavors of tangerine, apricot and citrus.
"We draw inspiration from architecture and design for our beer names," explains Rabe. "For Arcade, we played on the word's dual references: the classic coin operated video games we're all familiar with, as well as the covered archways (often a portico) you see throughout Europe. The result was an 8-bit inspired graphic that speaks to both." If you haven't already seen it, look for Arcade Hazy IPA to hit beer store shelves at select stores throughout Massachusetts this week.
About Portico Brewing
Portico Brewing is inspired by architecture and design of all kinds, and its beers are made for all to enjoy. Their focus is to rethink traditional styles and create beers with classic ingredients and careful technique. Currently a contract brand, Portico will debut its own brick and mortar brewery and community-focused taproom near Union Square in Somerville, Massachusetts in spring of 2021. Committed to environmental values, its aim is to be part of the movement that believes in beer/business for good.
About Eco-Friendly Beer Drinker
Rob Vandenabeele, an avid gardener, biker, nature lover and beer industry blogger, founded the EcoFriendlyBeer.com website in early 2020. Currently enrolled in the Environmental Studies program at the Harvard Extension School, his goal is to inspire people to better protect our earth, the only planet with craft beer. You can follow him on Facebook, Twitter or Instagram at @EcoFriendlyBeer.