PR / Vermont (September, 2022) — Ten months after its initial pilot program in Burlington, the state of Vermont's can carrier reuse program has officially hit its stride. "I think it's more of a strut," kids Ben Kogan, one of the initiative's founders. "We couldn't be more proud of the results: nearly 75,000 rescued and reused 4-pack holders so far, with a solid projection to surpass 100,000 by year's end. It's been amazing to see the craft beer community (retailers, distributors, consumers and breweries) step up to make this happen."
Dubbed the "Reusiverse" by its co-creators, Kogan of Reusable Solutions and EcoFriendlyBeer.com founder Rob Vandenabeele, the popular "reduce-reuse-and then recycle" model has now been adopted by more than 50 businesses, including 24 taprooms and 30 co-op, grocery or retail stores. In all, the footprint extends to 35 different cities and towns scattered throughout the state's 14 counties and has resulted in the diversion of 10,000 plastic can carriers from the waste stream every month. In addition to the environmental benefits, several small, eco-minded breweries are enjoying a notable decrease in packaging costs.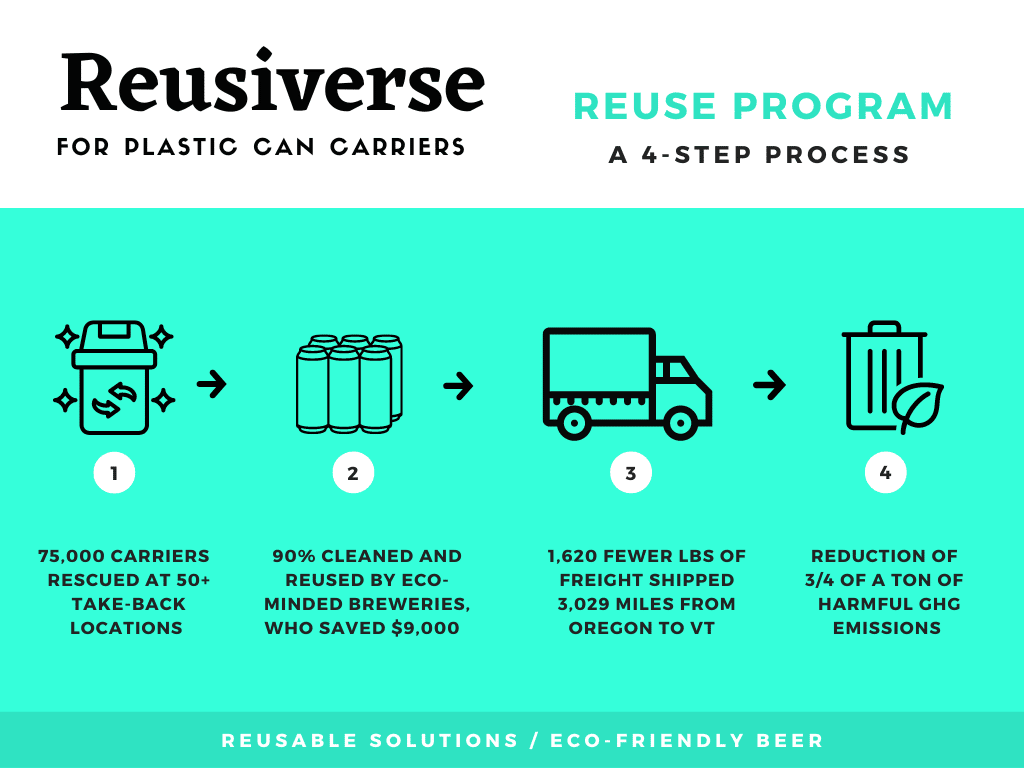 The secret to the program's success has been the collaboration and support of its many partners, including the Vermont Brewers Association (VBA) and craft distributor Vermont Beer Shepherd, along with fiscal sponsorship from Lawson's Finest Liquids, solar energy provider SunCommon, B-Corp certified Mascoma Bank and fiscal agent Woodstock Community Trust. The VBA has taken an active role in recruitment and communications with its members, Beer Shepherd has been instrumental in collecting, storing and in some cases delivering carriers to breweries for reuse, and the financial support of the above mentioned sponsors has enabled the expansion of the program's successful state-wide infrastructure. Negotiations are currently underway to add another partner, Iron Heart Mobile Canning, to the mix as another collector and distributor.
From its inception, the take-back option has been overwhelmingly popular with Vermont's craft beer consumers. "It's been great to see these can carriers, which most people thought were easily recyclable [a result of the manufacturer's disingenuous marketing claims], kept out of the waste stream," said Mel Allen, host of The Boozebuddy Update and an avid craft drinker with several hundred returns to his credit. "I've been amazed at the positive response I've seen from other craft drinkers. It has really worked better than anyone expected."
Nearly a quarter of the verified collection sites are breweries that sanitize and reuse carriers, and in so doing give them a second life and divert them from the waste stream. At Black Flannel Brewing in Essex Junction, head brewer Dan Sartwell has been so successful with his take-back and reuse efforts that he hasn't needed to purchase new packaging in more than a year. Likewise, Colchester's Green Empire Brewing, where co-founder Evan Vacarr has embraced the idea of packaging his brand's 4 and 6-packs with a rainbow of reused colors, hasn't paid for new carriers since the pilot program started last November. Combined, the two breweries have now rescued well over 25,000 and don't envision ever going back to the previous costly and wasteful single-use packaging scenario.
Reuse opportunities have emerged from some other creative enterprises as well. Fed up with the outsourced and unsustainable nature of the outdoor gear industry, Peter Grunwald decided to start Trash Plastics, a company that "protects the outdoor athlete and the environment with gear made from garbage." His unique bike fenders and mud guards use can carriers he collects from Lawson's Finest and Zero Gravity, which he then shreds, melts, and molds into his one-of-kind products.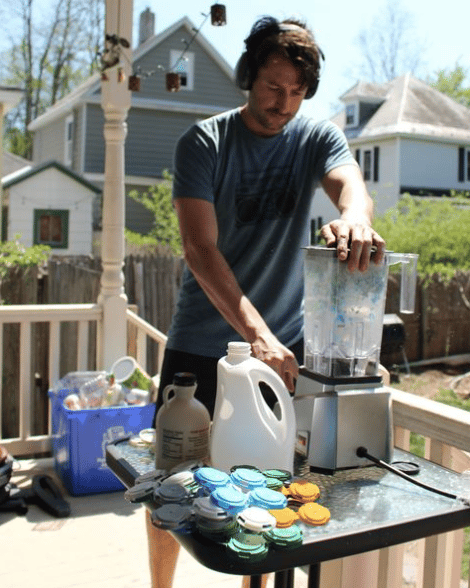 After reading about the Reusiverse concept in BrewView Vermont, husband and wife team Kate and Pete Dellner started envisioning the brightly colored and durable packaging as potential trail markers. Snowshoe Trail Coordinators for the Brattleboro Outing Club, which promotes community participation through affordable outdoor activities, they've started gathering them from their local collection locations as a replacement for the tape they previously used (it easily shredded and sometimes ended up as litter on the trails). Hikers, snow shoers, and cross country skiers that enjoy craft beverages will soon see the familiar packaging at Brattleboro Golf Course or the Retreat Farm Trails this fall and winter.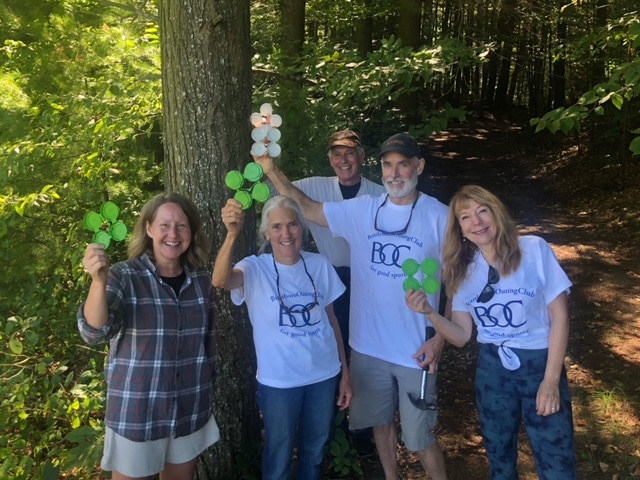 Emily Landenburger also learned about the Reusiverse from a newspaper story she read. A manager at Middlebury Natural Foods Co-op, she decided to write about it in the store's summer newsletter. "That's when I realized we could actually be part of the program too," she said, "and that was even better." Since joining the program in July, consumer enthusiasm has steadily grown. More than 1,000 carriers have already been returned by craft beer drinkers, an exciting but not unexpected result given the support the co-op's customers have for craft beer and for reuse, says Landenburger.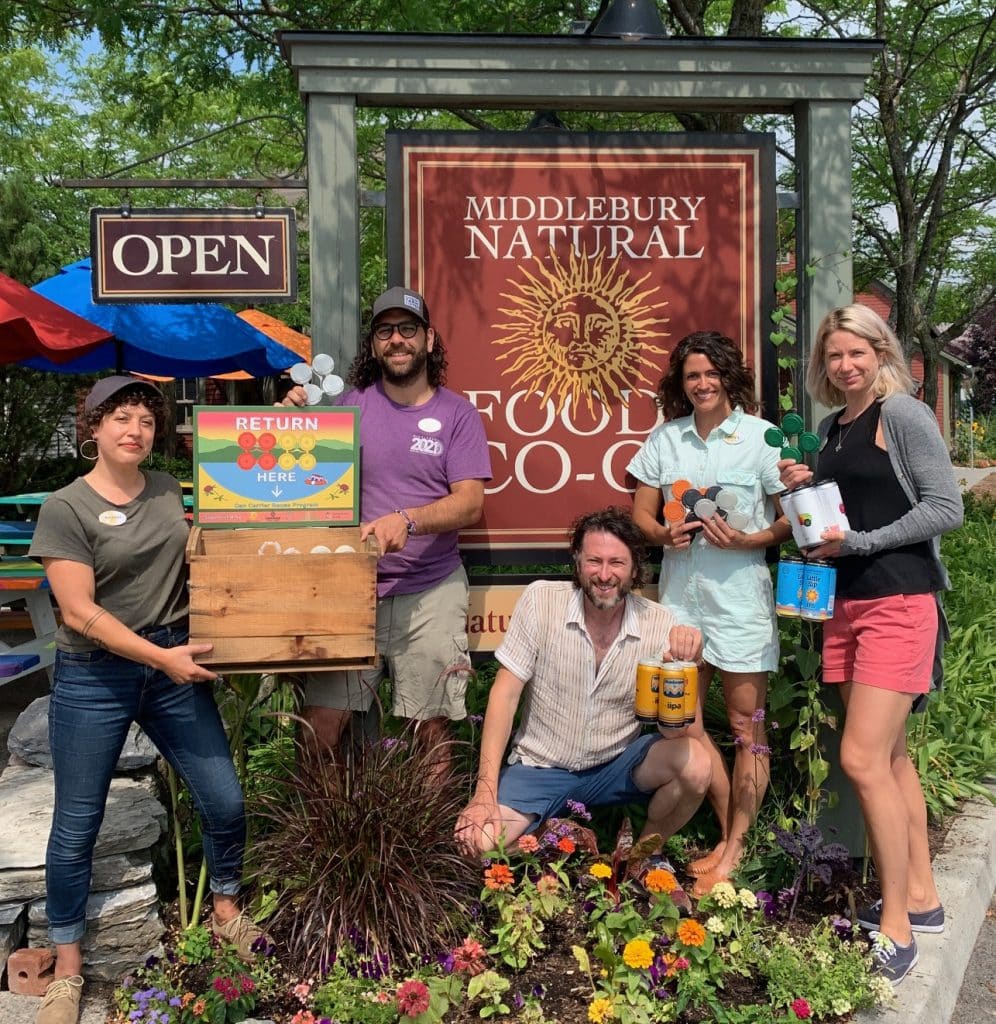 With the success of the Reusiverse now firmly established throughout the state, Kogan hopes to expand the model beyond just plastic can carriers. "We've heard the reduce-reuse-recycle mantra for years," he says, "but all the attention has been focused on the last step in the hierarchy, recycling, which doesn't actually work very well. It's far more effective to reuse, and now with everyone's help we're building an infrastructure to do just that. It's proof of concept for more reuse possibilities: refillable jugs for Maple Syrup, reusable bottles for craft beverages, even Ben And Jerry's ice cream in returnable containers. If anyone in those industries wants to make that happen feel free to contact me at Ben@resuablesolutions.co. We can do this!"
Featured image: Jonah Fanelli with a pallet of 10,000 rescued can carriers at VT Beer Shepherd's warehouse (Photo credit Liezl Cosentio).
This press release should not be mistaken as an endorsement of plastic can carriers, which manufacturers disingenuously promote as "100% recyclable." While true in theory, such marketing claims are anything but true in reality. Because they are incompatible with standard curbside recycling programs in the U.S., billions of plastic can carriers end up in the waste stream annually. This fact is the motivation for the Can Carrier Reuse & Recycling Initiative, which recognizes the unsustainable nature of plastic packaging within the beverage industry and is trying to mitigate the environmental harm caused by it.
The EcoFriendlyBeer.com website was founded in early 2020 to spur discussion and share insights on how the craft brewing industry and its consumers can better protect our Earth, the only planet with craft beer. Its founder is currently enrolled in the Sustainability Studies program at Harvard Extension School and offers sustainability consulting for the craft beverage industry.
Reusable Solutions is an outreach organization that focuses on eradicating single-use plastic and fighting climate change. Its founder believes that innovative business and smart environmental policy are the most effective means to transition from a linear to a circular economy. Part of this transition is connecting reusable and renewable businesses with consumers through a community-based, grassroots process.