PR / Westerly, RI (November, 2023) — Grey Sail Brewing of Rhode Island (Grey Sail) is marking their 12th anniversary with an investment in clean energy. Grey Sail's brewery will be powered by over 100 rooftop solar panels, offsetting over 30% of Grey Sail's total electricity usage. To further reduce their environmental footprint, Grey Sail also uses a CO2 capturing system during the brewing process, donates spent grain from its brewing process to a local farm, and its sales team drives hybrid vehicles.
"We can't thank our staff, our partners in distribution, our community and our loyal customers enough," said Jennifer Brinton, owner of Grey Sail Brewing of Rhode Island. "For the past 12 years they supported our growth and our passion. While we are known for our beer, it is the sense of community that has been built that is most rewarding to me."
"Every day we are living out our dream," said Alan Brinton, founder of Grey Sail Brewing of Rhode Island. "I am incredibly proud of our team's commitment to quality, craft beer and our ability to innovate. Every day we are looking at ways to lessen our environmental impact in all aspects of our operation."
This fall, Grey Sail worked with CSG and Beacon Solar to install 105 solar panels which will generate 59 megawatt hours of electricity per year. The solar power project will cover just over 30% of Grey Sail's total electricity usage. Over the lifetime of the system, it will generate more than $400,000 in electricity savings while reducing greenhouse emissions.
Grey Sail was the first craft brewery in Rhode Island to implement carbon technology to capture waste carbon dioxide (CO2) emissions from its production process and reuse it on-site to carbonate its beer. Earthly Lab's plug-and-play carbon capture technology, called CiCi®, captures waste CO2 from the brewing process equal to the absorption work of 1,500 trees each year and avoids releasing it to the atmosphere.
On Friday, November 10th, guests can celebrate Grey Sail's anniversary at their Taproom in Westerly from 12pm-8pm. Guests will enjoy live music, food and the release of their new Anniversary Triple IPA.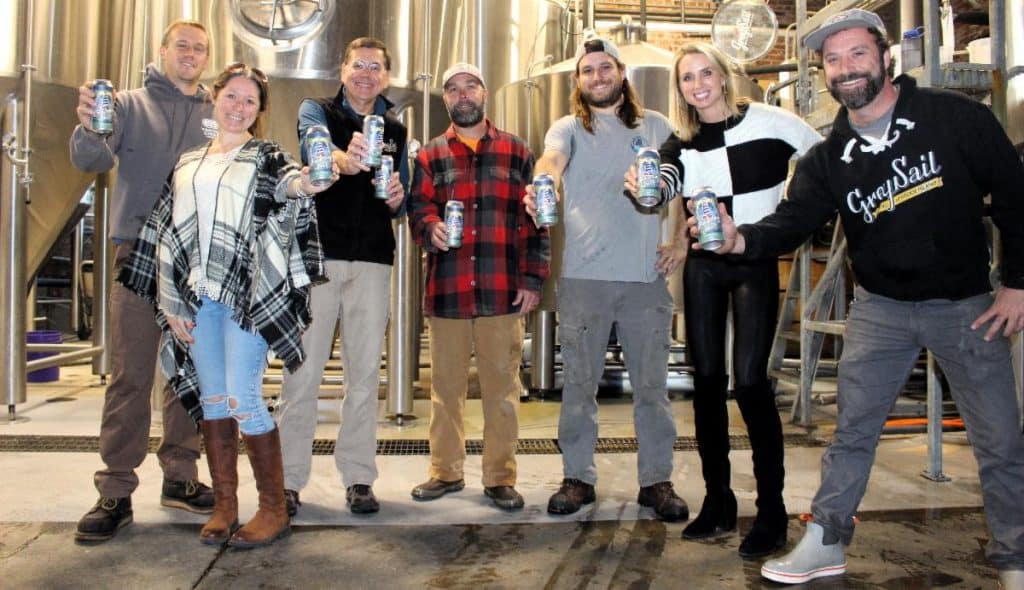 In honor of Veterans Day, active and retired members of the military will receive Grey Sail beverages "on us" for the day. A portion of the proceeds from the event will be donated to Work Vessels for Veterans, a veteran-operated organization that assists returning vets in beginning their civilian careers or educational pursuits, the local VFW and the American Flag Fund.
Annually, Grey Sail brews a limited release, triple IPA anniversary beer. At 11.11% ABV, it pays homage to the first batch of beer brewed 12 years ago on November 11, 2011. The new brew will be available for purchase and consumption at Grey Sail's brewery and taproom, and in retail stores, bars, and restaurants in Rhode Island, Massachusetts, and Connecticut.
Craft beer was always a passion of Alan Brinton, founder of Grey Sail. Chemical engineer by day, Alan brewed at home at nights and on weekends. In 2009, Alan and his wife Jennifer started thinking seriously about opening a brewery. After locating a space in a former macaroni factory, outfitting the brewery, and hiring great staff, they were ready to make their dream a reality.
Grey Sail officially opened on November 11, 2011 in Westerly, and began brewing their first beer, Flagship Ale. Jennifer oversaw the brewery operation while Alan continued to work full-time as an engineer, all while they raised four children. In 2017, they doubled the brewery in size to 7,500 square feet after a renovation which increased their annual capacity to 15,000 barrels. Grey Sail also has a taproom and beer garden on their campus which welcomes hundreds of guests every weekend.
Today, Grey Sail offers 9 year-round offerings (Captain's Daughter, Dave's Coffee Stout, Flagship, Flying Jenny, Haze, Ho!, Little Sister, Pour Judgement Pilsner and IPA and Adrift) and seasonal favorites like Autumn Winds, Leaning Chimney and Kegnog. They employ 12 full-time staff members and several part-time team members.
For requests for interviews, photos, and/or a tour of the brewery, please contact: Lauren Greene, 401-965-3972, or email lgreene@nharbor.com.