This story first appeared as a feature in the December January 2021 issue of Yankee Brew News
Featured image by Hans Graheim
Craft beer is often painted with a broad "green" brush, a reputation that arguably exists for good reason. In an energy and resource intensive industry like brewing, however, some brands are more environmentally conscientious than others. The often-shared story about a brewery sending its spent grains to a local farm is just the tip of the sustainability iceberg. Most states actually require businesses to separate such organic solid waste from the rest of their garbage anyway, to keep it out of already crowded landfills. To know whether your local brewery is actually committed to the environment, you've got to dig a little deeper. Fortunately, dozens of New England breweries have a proven track record that lives up to the broader industry reputation.
Does a brewery walk the walk
A discerning consumer will need to see past green marketing efforts. A good place to start is by looking for some sort of credential. Maine Beer Company, for example, is a member of 1% For The Planet, a charitable organization that brings donors and businesses together to expedite smart environmental giving. Burlington, Vermont's Zero Gravity Brewing is another among the dozens of U.S. member breweries that have committed to giving one percent of their sales to the group's approved environmental nonprofits.
Portland, Maine's Allagash Brewing, Vermont's The Alchemist and most recently Redemption Rock Brewing in Worcester have set an even higher bar by earning Certified Benefit Corporation status, which means they use the power of business to work toward a more inclusive and sustainable economy. The culmination of a year and a half long assessment, review and third-party certification process according to Redemption Rock founder Dani Babineau, it requires that her brewery "make decisions and implement practices that consider not just shareholder value, but the impact on all stakeholders – employees, customers, society and the environment." In the latter category, it was the brewery's monitoring and limiting of energy usage and waste production that helped them achieve a passing score. Redemption Rock won't rest on its laurels just because the certification process is complete, says Babineau. "We're gonna keep on keepin' on."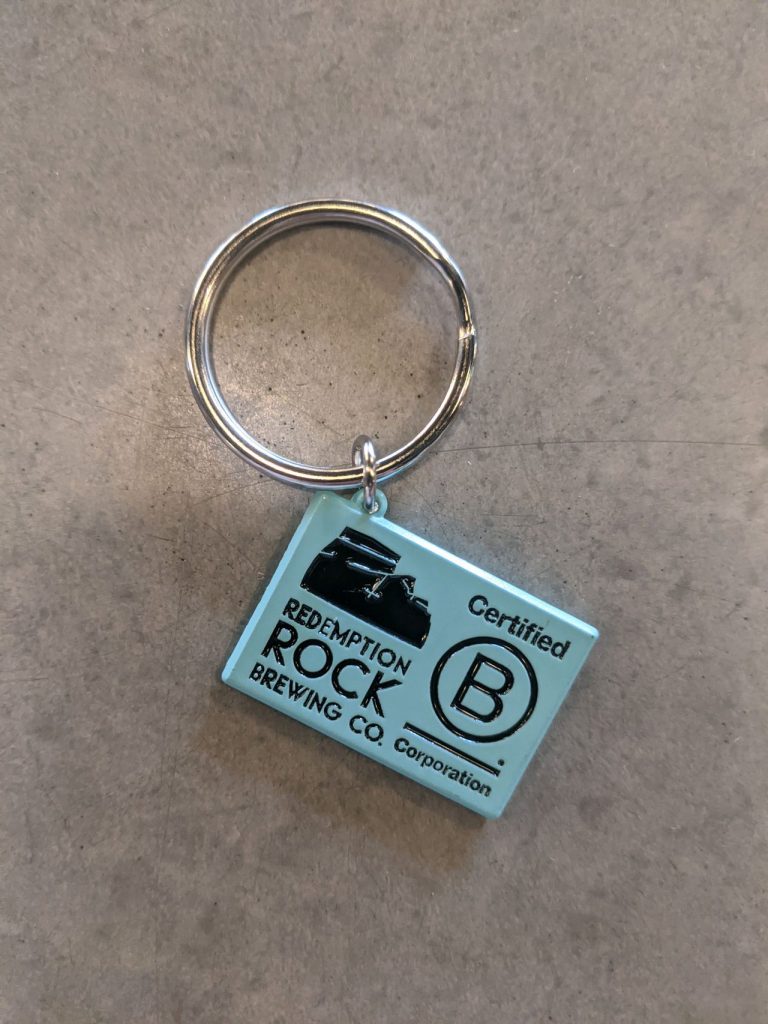 Preserving beer's most crucial ingredient
"Having an efficient brew house and mitigating the amount of resources we use has long been a priority at Allagash Brewing," says Brett Willis, a marketing specialist and member of the brewery's Green Team, a group of employees constantly looking to improve sustainability. In addition to boasting a water per barrel of beer ratio less than half that of the industry average, Allagash donates 10 cents from every barrel it brews to Sebago Clean Waters, a collaboration of conservation organizations working to protect the region's water quality. "We're fortunate to have access to such a pristine water source," explains Willis. "Because of the forests that surround the lake, Sebago is one of just 50 public surface water supplies in the U.S. that's so pure it doesn't even require filtration." In 2019 the brewery's donations equated to nearly $10,000.
At The Alchemist, probably best known for its pioneering IPA Heady Topper, water conservation has also been a priority, and not just during the brewing process. When founder John Kimmich decided to expand to a second location in Stowe, he built his own wastewater treatment facility at the new production brewery, even though it wasn't required. The move helped reduce the impact the business has on the environment, something he and his wife Jen say they've come to value more and more as they grow and learn. In addition to significant savings, the decision earned accolades, including the Governor's Award for Environmental Excellence. Kimmich believes that minimizing his brewery's environmental footprint is also good for business because it matters to people, especially younger consumers.
Just how local is that local beer?
"The idea of sustainability has really engulfed our decisions about supply chain," says Barry Labendz, one of the founders at Kent Falls Brewing in Connecticut. A working-farm brewery, its beers have been brewed with 100 percent locally grown and processed malt from New York, Massachusetts and its own home state since August of 2018. A founding member of the Northeast Grainshed, a "stake-holder partnership connecting grain-related businesses and organizations," the brewery's commitment to sourcing local cuts down on transportation emissions associated with the deliveries required to supply its 2,400 barrels of annual beer production. Not only that, but it supports what Labendz explains is "a renaissance in growing, milling and malting local grains here in the Northeast." He and other business owners envision a robust infrastructure that establishes relationships and creates localized supply chains in which farmers supply the region's bakers, brewers, pasta makers and others.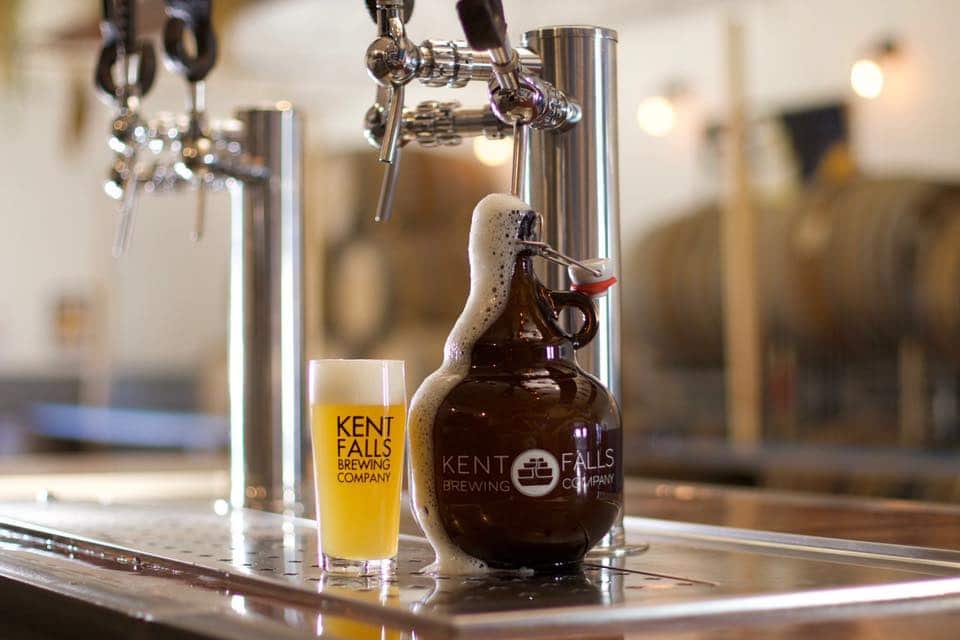 The idea is one that nearly a dozen other New England breweries support, including CraftRoots in Milford, Massachusetts, which like Kent Falls brews all of its beer with locally sourced grains. The idea hasn't been lost at Allagash either, which earlier this year debuted its first USDA certified organic beer made with 100 percent Maine grown malt. A golden ale which will be called Fine Acre, the plan is to release it in 6-packs of 12-ounce cans as a year-round beer starting in early 2021.
Solar Brewed Beer
It's not just local ingredients that Kent Falls and others are using to brew their beer, it's also local renewable energy. Ridgefield, Connecticut's Nod Hill Brewery, Morrisville, Vermont's Rock Art Brewery, Northampton, New Hampshire's Throwback Brewery, RiverWalk Brewing in Newburyport, Massachusetts and West Kingston Rhode Island's Shaidzon Beer Company are all among the top 100 solar-powered breweries in the world according to Solar Plaza, a global platform for the solar energy industry.
Of course, the east coast's first solar-brewed beer originates from Barrington Brewery in Great Barrington, Massachusetts. It's been drawing 85 percent of its brewery and restaurant energy needs from a 480-panel solar array since in 2007. It wasn't initially intended to be an economic decision, but ended up saving the brewery quite a bit on air conditioning costs said Andrew Mankin, the brewery's co-owner. "We started thinking about how much we were paying for some of the aesthetic features of the building," he explained, "and we decided it was equally important to put some money into being an environmentally responsible business too. Once the loan is paid off, your'e getting free electricity."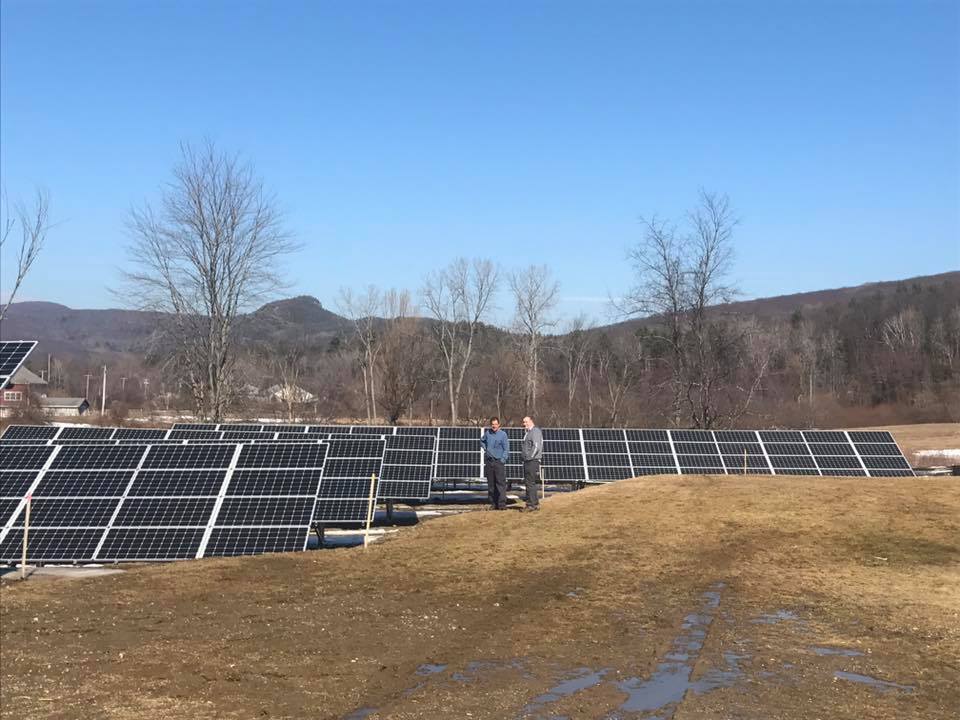 Eco-Friendly Packaging
An environmental concern that has increasingly attracted attention is the proliferation of plastic can carriers, a result of the trend toward canning. Despite being marketed as "100% recyclable" by manufacturers, PakTechs and other can handles aren't compatible with residential recycling collections because they can't be sorted for a variety of reasons. Instead, they're ending up in landfills or leaking into the environment where they sometimes cause harm to wildlife. The concerns prompted high-profile brands Tree House Brewing and Hill Farmstead Brewery to ditch plastic carriers all together. The news was greeted with overwhelmingly positive reaction by social media followers of the two breweries.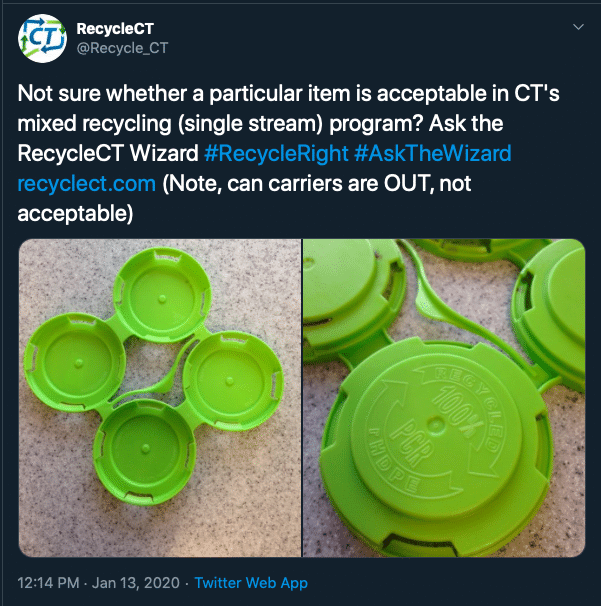 Breweries without the luxury of selling beer exclusively out of taprooms have also been looking for solutions to the plastic packaging problem. "We knew we wanted to offer a truly green product to our consumers when we opened our brewery" said Russell Voss, cofounder of NU Brewery in New Castle, Maine, "so carriers made from plastic weren't really a consideration." Voss opted for a truly biodegradable alternative known as Eco Rings, which he says have worked successfully for on-site and distribution retail sales. Created by startup company E6PR, the compostable carriers are now being used by nearly 20 other New England breweries thanks to New Hampshire mobile canning company State 64. Cofounder Tim Little bought a pallet of them at bulk price so he could economically offer the innovative product to eco-conscious breweries like Loaded Question Brewing in Portsmouth and To Share Brewing in Manchester among others. 
Green is the new black
Massachusetts contract brand Rockport Brewing opted for Eco Rings when it launched a few months ago. Part of the brand's environmental focus, founder Ray Pickup says he envisions his brewery being designed with a light eco footprint once he finds his own space to brew in. His aims are to source local ingredients, mitigate water usage wherever he can, and rely at least partly on renewable energy.
Fellow Massachusetts contract brand Portico Brewing, which recently found its future brick and mortar home in Somerville, will also have an eco-friendly focus when it debuts in early 2023. The founders are working with an environmental consultant on what it refers to as its environmental handprint, the positive actions and measures that should help it become a green business. Among the actions planned to achieve its sustainability goals are undertaking an energy efficiency audit, sourcing its power through Somerville's green energy option, implementing a comprehensive reusables program to avoid single-use plastic and becoming a certified bike-friendly business. "Our aim is to be as green as we can be," says cofounder Alex Rabe. "Not just in the way we brew beer, but also in the way we communicate environmental values to customers. We want to be part of the movement that believes in business for good."
Author Rob Vandenabeele is founder of the website Eco-Friendly Beer Drinker. Currently enrolled in the Environmental Studies program at the Harvard Extension School, his goal is to inspire people to better protect our earth, the only planet with craft beer. You can follow him on Facebook, Twitter or Instagram.