If you've been around the craft beverage scene a while you may remember Fishbone, the short-lived paperboard packaging company that debuted a few years ago but didn't last very long. At the time, its promising alternative to plastic film six-pack rings and rigid HDPE can carriers struggled to deal with its wet strength limitations and quickly fizzled out. After going back to the drawing board, and joining forces with industry veteran Atlantic Packaging, Fishbone's recyclable can carrier system is back and appears to be better than ever. Now performance tested, its innovative new design contains no plastic whatsoever, is therefore 100% curbside recyclable, and has the potential to be a real game changer for environmentally conscious breweries.
"It's a far different product than our earlier version," says Kevin L'Heureux, Fishbone's president and one of its original founders. "The redevelopment process allowed us to reimagine its materials, coatings, structural aspects and even how our customers use the product." The result, according to the Fishbone website, is a "sustainable carrier that not only performs the way you need it to, but that also shows customers your commitment to the environment." Extensive third party testing under a variety of conditions yielded what L'Heureux describes as results they are extremely confident in.
It isn't just performance that Fishbone has improved on. Its new sustainability attributes are equally impressive. Atop the list is its universal curbside recyclability, a feat no other carrier has yet accomplished. Despite marketing claims by PakTech and Hi-Cone, industry leaders in rigid snap-on carriers and thin film six-pack rings, neither are accepted in residential recycling programs. In fact, less than 9 percent of all plastic waste in the U.S. actually gets recycled according to the most recent Environmental Protection Agency (EPA) data. Given the sorting complications most materials recovery facilities (MRFs) face with plastic carriers and rings, the recycling rate for PakTech and Hi-Cone packaging is undoubtedly even lower. Comparatively, the EPA reports that more than two thirds of all paper-based material gets recycled annually.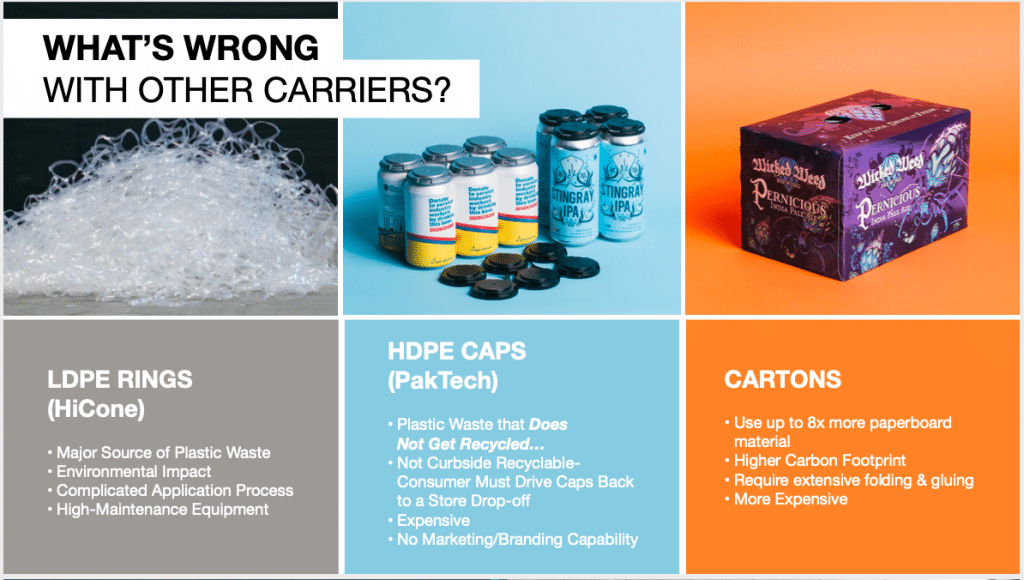 Fishbone stands up when compared to eco-friendly packaging competitors as well, namely WestRock's multi-layer material CanCollar and E6PR's 100% plant fiber Eco Rings. The former's laminated paperboard carrier is neither fully biodegradable nor easily recyclable because of its polymer-based coating. The latter, which like Fishbone carriers are both compostable and recyclable, have struggled to scale up quickly enough to meet demand and are still at a price point that's slightly higher compared to plastic carriers. Fishbone, on the other hand, plans to hit the market with a slight price advantage over PakTech, according to Atlantic Packaging president Wes Carter.
Atlantic's partnership with Fishbone also provides it with a manufacturing and distribution scale that rivals any carrier in the market, says Carter, whose diversified company has been around for 75 years and has more than 40 locations throughout the U.S.. The comprehensive Fishbone system also features semi and fully automatic application equipment for both the 6-pack and 4-pack formats. Notably, the BCF10 tabletop model runs up to 60 cans per minute and is available to breweries for a monthly user fee. The BCF40 high-speed model runs up to 240 cans per minute and is available for purchase. For smaller breweries looking to stick with manual application, Atlantic is putting the finishing touches on a BCF-M model that will be fully manual – no power or air required. The plan is to have it available for lease at a low monthly cost some time next month.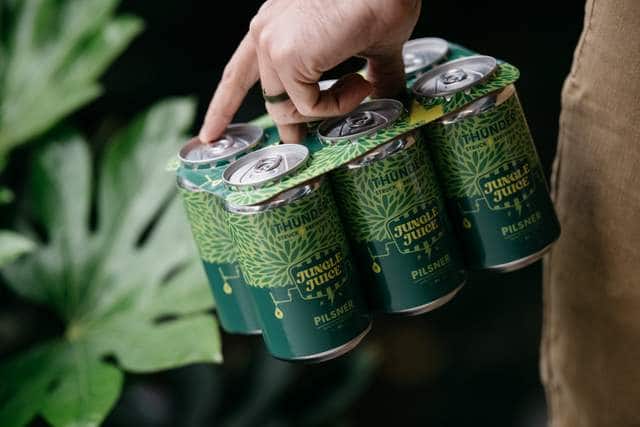 Among the breweries that have already signed on and are currently using Fishbone carriers are Montana's Imagine Nation Brewing, which uses them for packaging its distribution beer. Other canned beverage producers, including wineries, are embracing the plastic-free packaging as well. Fox Run Vineyards in New York's Finger Lakes region has been successfully using them on its Dry Red cans and plans to eliminate the use of plastic carriers on all its canned wine. "Fox Run operates on 100% self-generated solar energy, has been a certified lake-friendly farmer for almost 20 years, and recently took aim at reducing the use of plastic. "Switching to Fishbone's paperboard carriers helps us get one step closer to achieving our sustainability goals," said co-owner Scott Osborn.
To ensure that its carriers don't contribute to deforestation, a frequent focus of criticism by plastics manufacturers, Fishbone's paperboard is sourced from Billerudkorsnas, the most sustainable packaging company in the world as quantified by the Dow Jones Sustainability Index. The Swedish company has held its leading position in the category for three consecutive years and has a lower carbon footprint than any paperboard mill in the U.S.. Experts in forestry management, Billerudkorsnas harvest trees only when their CO2 absorption efficiencies start to decline and replant three new trees for every one harvested.
With a sustainability profile comparable to E6PR's Eco Rings, a cost structure competitive with PakTechs, and printed branding opportunities superior to both, it's hard to argue that Fishbone's new can carrier system isn't best in show.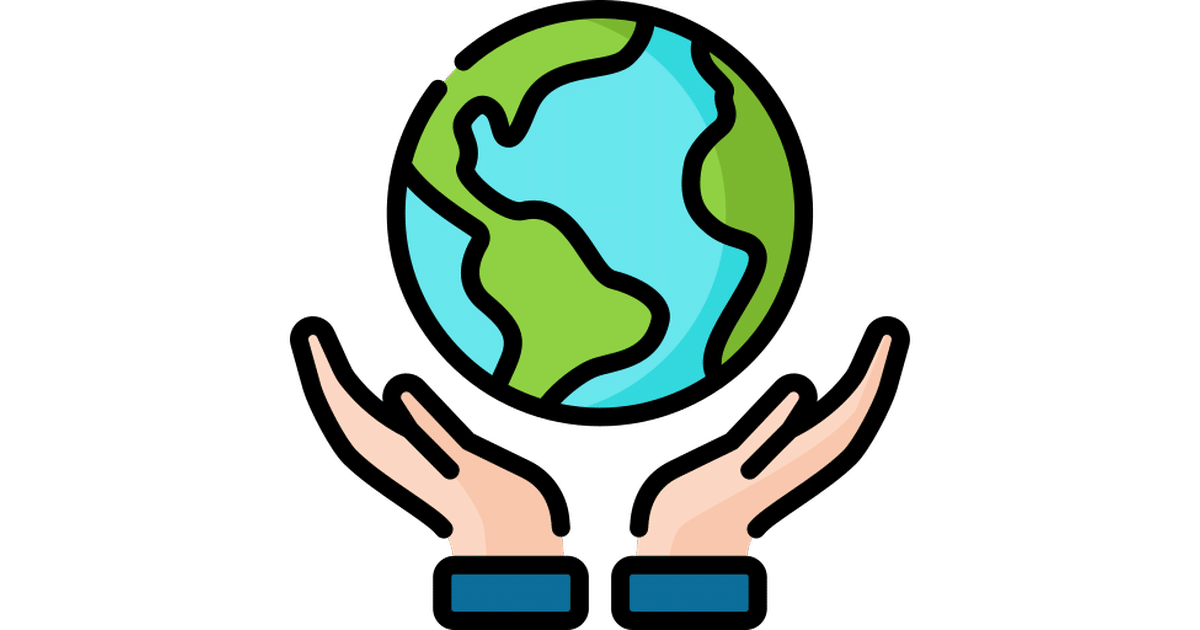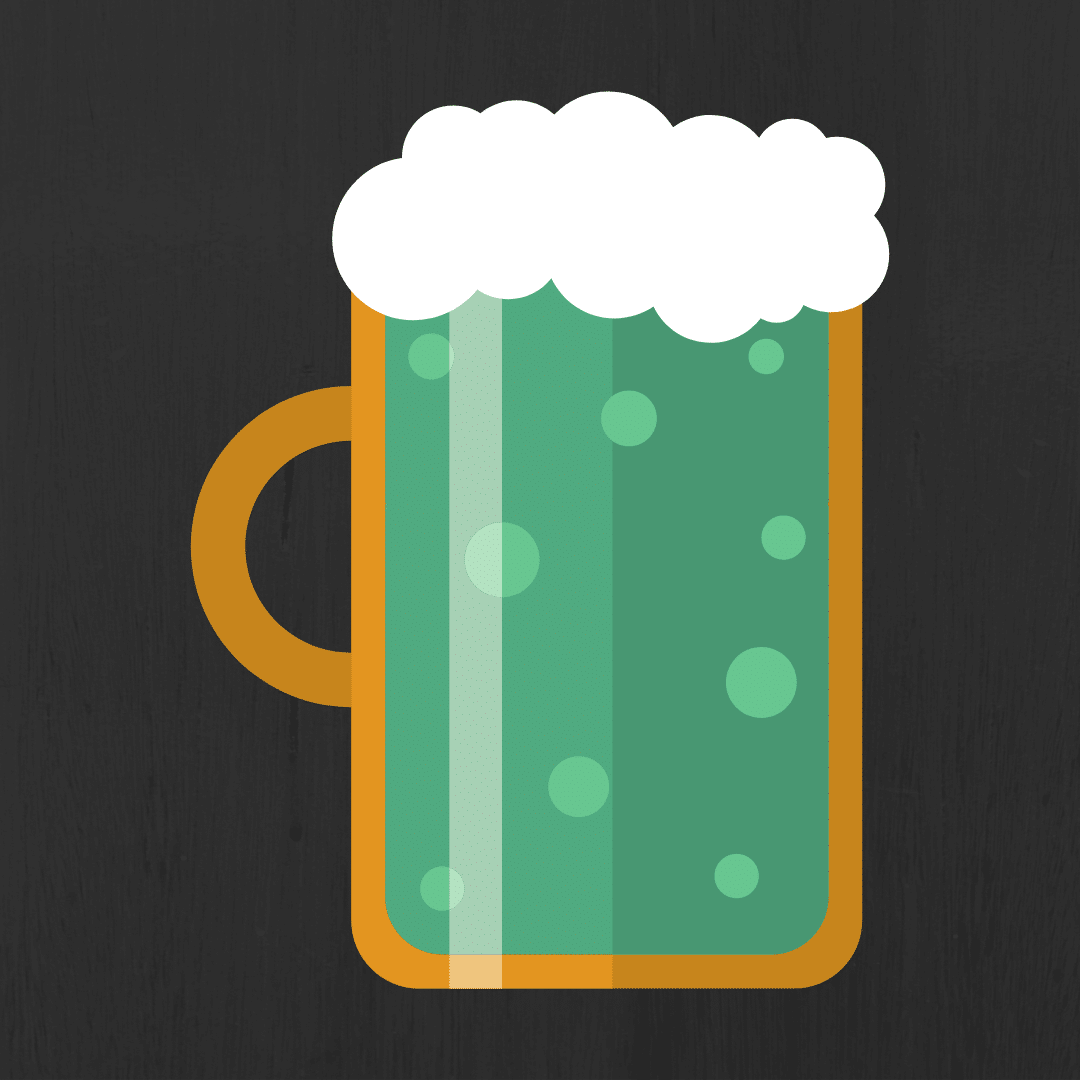 How to Make Sure Your "Infinitely Recyclable" Aluminum Beer Cans Actually Get Recycled